CORAL REEFS ARE ONE OF THE MOST
VIBRANT AND BIOLOGICALLY DIVERSE
ECOSYSTEMS ON THE PLANET.
They are also one of the most fragile. Increasingly, scientists are finding evidence that common, consumer sunscreens can negatively impact coral reefs.
Certain chemicals in sunscreens have been linked to coral disease, coral bleaching, and stunted coral growth. When you consider that an estimated 4,000 – 6,000 tons of sunscreen are deposited in reef areas each year, it's no wonder that all these chemicals are wreaking environmental havoc.
It is beneficial for us and our reefs to use sunscreen that is not harmful and to spread awareness in every way we can.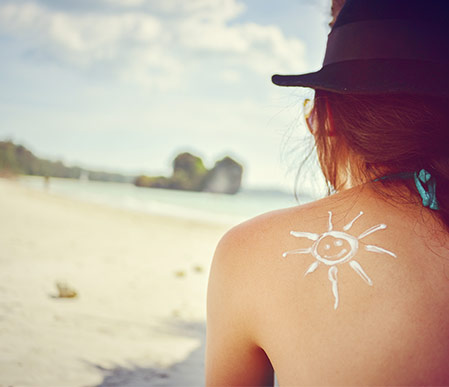 So what's a person to do?
The first step is understanding the basics of sunscreen. Sunscreens prevent the sun's ultraviolet (UV) radiation from reaching the skin through a combination of natural and chemically-derived ingredients.
There are two types of UV radiation that affect human skin: UVA and UVB. UVA rays penetrate deep into the skin and are linked to aging (wrinkles), skin damage, and skin cancer.
These types of rays are more common than UVB rays and are present throughout the year. UVB rays, on the other hand, are more intense during summer months and between the hours of 10am-4pm. They tend to cause more damage to the surface of the skin and are responsible for sunburns, skin reddening, and skin cancer.