Molokini Crater
Molokini Crater is one of the most iconic snorkel and dive spots in the Hawaiian Islands. Located three miles off the coast of Maui, Molokini is a sunken, volcanic crater known for its excellent visibility and abundant marine life.
Declared a Marine Life Conservation District in 1977, it is one of only three volcanic calderas in the world and boasts a multitude of wildlife – from colorful corals to high flying seabirds.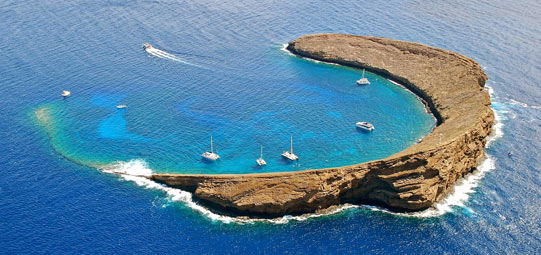 To minimize human impacts to Molokini's reefs, tour boat operators take steps to protect the area's fragile ecosystem. For example, operators tie their vessels to mooring balls instead of dropping anchor and fish feeding is strongly discouraged.
We are now working to designate Molokini as the first, 100% Be Reef Safe destination in Hawai'i.
By transitioning every Molokini snorkel and dive boat to reef safe sunscreen and sustainable sunscreen alternatives, we aim to lessen the human impacts to Molokini's coral reef.
BE REEF SAFE
MOLOKINI TOURS
Pride Of Maui
Offering free Raw Love sunscreen dispensers located in the wheelhouse and on the bar in the main cabin.
Leilani
A 1 gallon dispenser of free Raw Love sunscreen is located onboard.
Trilogy Excursions
A great way to reduce the use of sunscreen and keep the sun off you during snorkeling are wetsuit tops. Available for everyone onboard.
Free sunscreen
Free wetsuit tops
Redline Rafting
Available to all guests are the free use of lightweight wetsuits.
Hawaiian Paddle Sports
Buy a bottle of reef-safe sunscreen from your guide prior to getting out on the water.
Maui Kayak Adventures
Purchase a bottle of Tropical Seas reef-safe sunscreen from your kayak guide before starting off on this challenge.
TAKE ACTION AND
CHOOSE REEF SAFE
Why Become A Subscriber:
(Exclusive Be Reef Safe) newsletter filled with latest
campaign updates and action alerts
tips for leading a Be Reef Safe lifestyle
deals and coupons from our reef safe partners
insightful research and news from our contributors,
and much more!
opportunity to upgrade to contributor
Contributor Sign In
Login to submit news, create events, share research and manage your business profile. Your membership need to be upgraded from subscriber level to access these features.
Please contact us to update your membership level.